expires in 72 hours

Offer Obsession +
Human Design Immersion
Get the understanding you need to create an offer you love!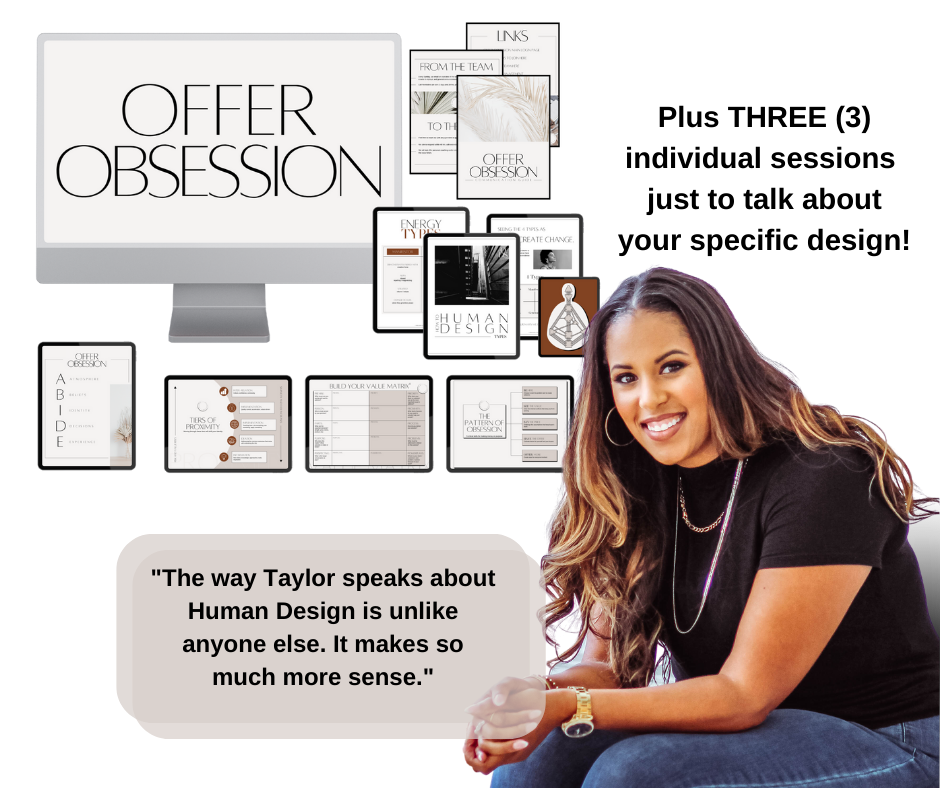 inside the program...

Through live teachings and course modules, you will master Offer Obsession process. Once you understand how it works, you will be able to make offers for the rest of your life. This skill is how promotions are achieved, mergers are made, and "regular" people become voices that change systems.
It all starts with an offer.
Meet with other people like you committed to do work that deeply matters. Whether you are getting coached or observing others get coached, you will get the insight you need to overcome your obstacles to making money with an offer you love.
It's a rebellious act to decide that good enough is not enough for you. The good news is you are not alone. There are others who agree the standard for a life well-lived is higher than work hard, be nice, and die. Join us.
The Offer Obsession process is different because it considers how you are different. Instead of requiring you to follow a "proven," yet often out-dated strategy–we use your unique makeup to figure out how you best work.

Inside Offer Obsession, you can submit your value matrix to for feedback from peers and coaches. The feedback is intended to refine your messaging, making your messaging even more potent and clear.
Inside the program, every student has the opportunity to learn a coaching framework called ABIDE.™ This tool makes sure everyone is able to navigate the impact of massive change on your self-concept and relationships.
3 (45min)Sessions

Practical Applications to experiment with your design


Enhanced Human Design Chart and Bodygraph


Replay of Sessions

Resources + Worksheets
Details Covered:

Mechanics of Human Design
Type
Strategy
Authority
Profile
Definition
Centers
Key Channels
Key Gates

* For personal use only.
This is not a business reading.
The Experience

Weekly interactive sessions where we dive deep into your design. Layer by layer leaving you with prompts to explore in between. Your discoveries between sessions initiate deeper learning. This work catalyzes deep self-discovery.

By the time we're done, you'll understand why you experience life the way you do, and what to do about it.
It's time to make the money you doing work you love!
a few clients have shared

The way Taylor explained my design to me is unlike any other reading or interpretation I have had done. She connected it to my clients and business. More people need this.

Anita
Knowing how to make money is great, but the frameworks are showing me how to OWN my offer. That is everything especially combined with being coached from the seat of my design.
Tori
TAYLOR V

1/3 Emotional Manifestor

I started playing with Human Design because I was pissed at the usual approach to personal growth.

Yes, I could change my mind and make myself do anything. But I couldn't pretend that it wasn't self-neglect. It made me angry.

Human Design offered so much language for the internal resistance I felt. I was finally able to see what I always knew was different about me.

I could explain what I wanted and better evaluate the strategies that would actually support me.
I felt safe.
I felt like I could be me.
Now, I offer the same to others.
Because I want us to all stop apologizing for who we are, and just go get what we really want.
Refund Policy

There is no refund once service has been rendered.

limited time only

Master Your Design + Create an Offer You Love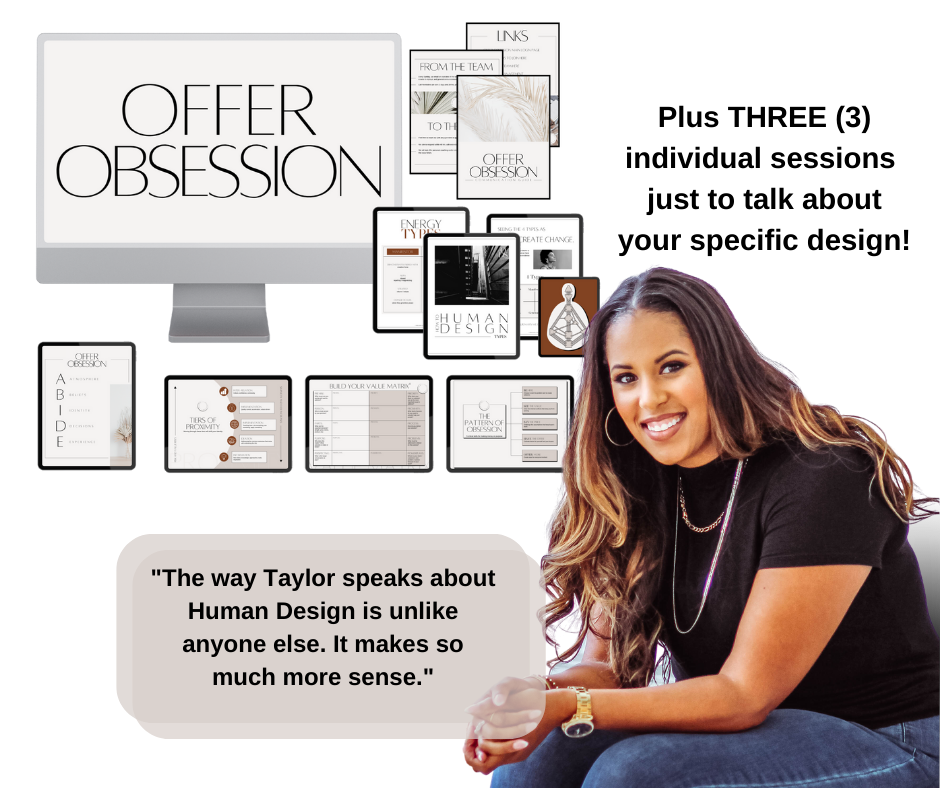 This kind of play will change everything...
Learning this way showed me how to take what works for me and drop the rest. I was able to drop the drama and change my life and business.

Claudia Sidoli | Projector

claudiasidoli.com

The title of the notification
The descriptive text of the notification
Join the Offer List
Get notifications when new Human Design Conscious offers are coming.
Created with